Hello,
We are running the Myxa with a Multistar 4822 690KV motor. We have changed the parameters to suit multirotor applications as per the quickstart guide. We have set the following parameters:
eangvel_accel = 15,000
eangvel_decel = 10,000
Maximum current = 40A
max_eangvel = 14,000 (for a maximum mechanical RPM of 12,000RPM)
We are using RCPWM to control the motor.
We connected the motor up to the thrust stand and we are getting a strange mechanical noise above 10,000 RPM (see video )
Have you come across this before? What could be causing this noise?
Attached are the configuration settings we are using. Let me know if you need more information.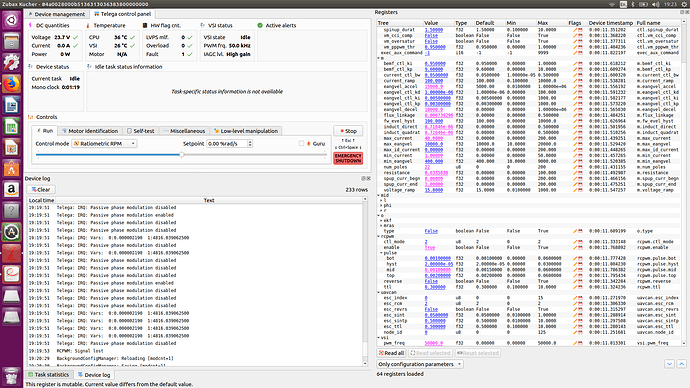 We have come across a different issue with the a different Myxa; We have run the Myxa with this motor in the past and have not heard any mechanical noise however, in those cases, the RPM seemed to max out at around 11,000 RPM and would not increase regardless of throttle input. Can you please provide suggestions as to what might be causing that?
Your assistance with the two queries above will be much appreciated.
Thank you