As shown in the figure, I downloaded the bin file to the target board, and some sensors worked properly, but there was no message on the can bus. Not only did the babel have no message, but the signal could not be captured with a logic analyzer.
Is Bootloader struct values: CAN bitrate: 0, UAVCAN Node ID: 0 right?
How can I solve this problem? thank you.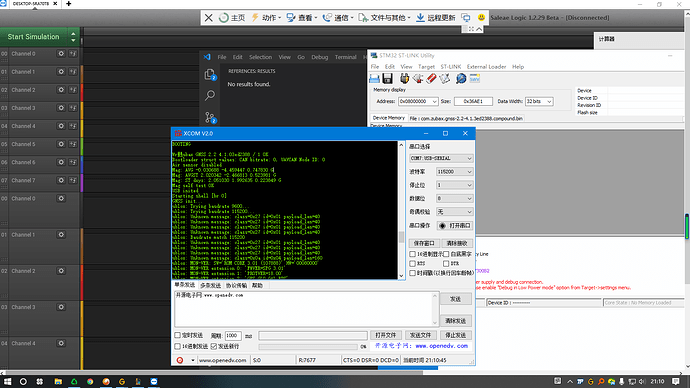 MESSAGA:
BOOTING

Zubax GNSS 2.2 4.1.03ed2388 / 1 OK
Bootloader struct values: CAN bitrate: 0, UAVCAN Node ID: 0
Air sensor disabled
Mag: AVG -0.030688 -4.459447 0.747830 G
Mag: AVGST 2.020342 -2.466813 0.523981 G
Mag: ST dxyz: 2.051030 1.992635 0.223849 G
Mag self test OK
USB inited
Starting shell [br 0]
GNSS init...
ublox: Trying baudrate 9600...
ublox: Trying baudrate 115200...
ublox: Unknown message: class=0x27 id=0x01 payload_len=40
ublox: Unknown message: class=0x27 id=0x01 payload_len=40
ublox: Unknown message: class=0x27 id=0x01 payload_len=40
ublox: Unknown message: class=0x27 id=0x01 payload_len=40
ublox: Baudrate match 115200
ublox: Unknown message: class=0x27 id=0x01 payload_len=40
ublox: Unknown message: class=0x27 id=0x01 payload_len=40
ublox: Unknown message: class=0x27 id=0x01 payload_len=40
ublox: Unknown message: class=0x0a id=0x04 payload_len=160
ublox: MON-VER: SW='ROM CORE 3.01 (107888)' HW='00080000'
ublox: MON-VER extension 0: 'FWVER=SPG 3.01'
ublox: MON-VER extension 1: 'PROTVER=18.00'
ublox: MON-VER extension 2: 'GPS;GLO;GAL;BDS'
ublox: MON-VER extension 3: 'SBAS;IMES;QZSS'
ublox: Detected protocol version: 018.000
ublox: Unknown message: class=0x06 id=0x3e payload_len=60
ublox: CFG-GNSS BEFORE configuration:
ublox: CFG-GNSS numTrkChHw  = 32
ublox: CFG-GNSS numTrkChUse = 32
ublox: CFG-GNSS block 0: gnssId=0[GPS    ] resTrkCh=8  maxTrkCh=16 flags=0x01010001[on]
ublox: CFG-GNSS block 1: gnssId=1[SBAS   ] resTrkCh=1  maxTrkCh=3  flags=0x01010001[on]
ublox: CFG-GNSS block 2: gnssId=2[Galileo] resTrkCh=4  maxTrkCh=8  flags=0x01010001[on]
ublox: CFG-GNSS block 3: gnssId=3[BeiDou ] resTrkCh=8  maxTrkCh=16 flags=0x01010000[off]
ublox: CFG-GNSS block 4: gnssId=4[IMES   ] resTrkCh=0  maxTrkCh=8  flags=0x03010000[off]
ublox: CFG-GNSS block 5: gnssId=5[QZSS   ] resTrkCh=0  maxTrkCh=3  flags=0x05050001[on]
ublox: CFG-GNSS block 6: gnssId=6[GLONASS] resTrkCh=8  maxTrkCh=14 flags=0x01010001[on]
ublox: Setting new CFG-GNSS...
ublox: New CFG-GNSS configuration has been confirmed by the receiver
ublox: Unknown message: class=0x27 id=0x01 payload_len=40
ublox: Unknown message: class=0x06 id=0x3e payload_len=60
ublox: CFG-GNSS AFTER configuration:
ublox: CFG-GNSS numTrkChHw  = 32
ublox: CFG-GNSS numTrkChUse = 32
ublox: CFG-GNSS block 0: gnssId=0[GPS    ] resTrkCh=8  maxTrkCh=16 flags=0x01010001[on]
ublox: CFG-GNSS block 1: gnssId=1[SBAS   ] resTrkCh=1  maxTrkCh=3  flags=0x01010001[on]
ublox: CFG-GNSS block 2: gnssId=2[Galileo] resTrkCh=4  maxTrkCh=8  flags=0x01010001[on]
ublox: CFG-GNSS block 3: gnssId=3[BeiDou ] resTrkCh=8  maxTrkCh=16 flags=0x01010000[off]
ublox: CFG-GNSS block 4: gnssId=4[IMES   ] resTrkCh=0  maxTrkCh=8  flags=0x03010000[off]
ublox: CFG-GNSS block 5: gnssId=5[QZSS   ] resTrkCh=0  maxTrkCh=3  flags=0x05050001[on]
ublox: CFG-GNSS block 6: gnssId=6[GLONASS] resTrkCh=8  maxTrkCh=14 flags=0x01010001[on]
ublox: Unknown message: class=0x27 id=0x01 payload_len=40
ublox: Unknown message: class=0x0a id=0x28 payload_len=8
ublox: MON-GNSS supported=15 default=3 enabled=11 simultaneous=3
ublox: Dynamic model: 0x08
ublox: Unknown message: class=0x27 id=0x01 payload_len=40
ublox: Unknown message: class=0x27 id=0x01 payload_len=40
ublox: Unknown message: class=0x27 id=0x01 payload_len=40
ublox: Unknown message: class=0x27 id=0x01 payload_len=40
ublox: Unknown message: class=0x27 id=0x01 payload_len=40
ublox: Unknown message: class=0x27 id=0x01 payload_len=40
ublox: Unknown message: class=0x27 id=0x01 payload_len=40
ublox: Unknown message: class=0x27 id=0x01 payload_len=40