Hi there,
We are currently using a GNSS2 module connected via CAN on one of our aircraft, and it seems highly susceptible to environmental noise. You can see from the graphs that there are two GPS on the aircraft, one being a ZED-F9P, and the other being the Zubax GNSS2. At certain locations, the Zubax will loose all satellites, but when moved away from the location, it will regain satellites. This has been tested on the ground, and in the air.
Ground: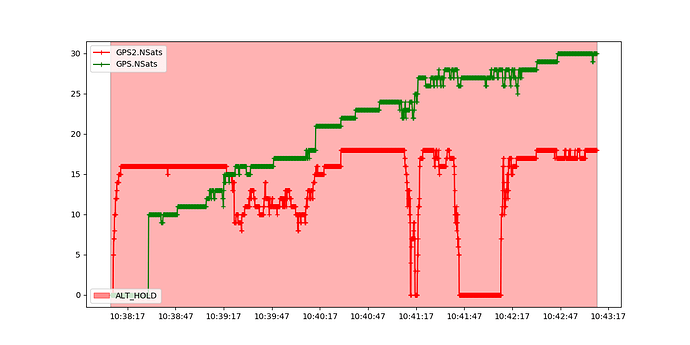 Air:
I can only upload one image at a time.
This is being flown in proximity to high power RF, in the following frequencies:
FM Radio (88-108MHz),
VHF TV (170-230MHz) and
UHF TV (470-700MHz)
We can see that the ZED-F9P is not affected by the RF source, but the GNSS2 is completely killed at certain points.
When flying in non high power RF environments, the GPS has performed exactly as expected.
When flying with other GPS modules, specifically of the M8* variants, we have not noticed this in the past.
I can provide full logs from the flights, please PM me if you need these.
Is there anything we can do see what the issue is short of replacing the unit and testing again?
All setting are stock on the GNSS2, aside from the CAN Node ID.
Best Regards,
Anton